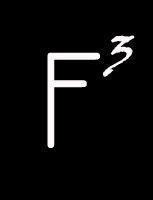 alt="funkfotoflashback" />
Welcome back to Funky Foto Flashback!
This week we visit summer camp at Camp Flying F Ranch. circa: ??? In retrospect, I doubt that this was REALLY a camp. We pitched our tents in the yard of these people and had "classes" about horses on the floor of their living room. Then we cleaned the stalls, groomed the horses, filed their hooves and cleaned out horse shoes - yuck. We did some riding (this brings back painful memories of being bucked off a horse gone wild).
Anyway, that's me on the left, my BFF Rhiannon on the right and the son of the people who owned the ranch in the middle.
Rhiannon has a flawless memory whereas my memory suffered through my youth. So Rhiannon, here's your turn to comment with some anecdotes or you might consider posting about it on your own blog.
Ok! Now its your turn! What you do is:

-post your vintage pic
-copy andpaste the code for the FFF button into your post
-sign in to Mr. Linky
-simple, yes?